Three of Marga Jonker's titles had been translated from Afrikaans and published in English.
Goodbye, Chocolate Charlie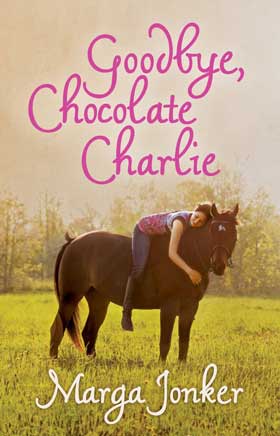 Set on a stud farm in the Cederberg, Nicky and her grandfather await the arrival of her cousin, Colette, and three friends from the girls' school they attend in Stellenbosch. They will be preparing for the SA National Equestrian Schools event.
But Nicky doesn't share their excitement.
She just cannot stop reliving her terrible accident on Chocolate Charlie three months ago . . . How will she ever be able to ride again without fear?
Trailer video here.
More detail on NB Publisher's website.
Brigadier and the Spirit Pony
Gabi headed for the stable. Even from a distance she could see Brigadier peering inquisitively over his stable door, ears pricked in anticipation.
When she got to him, Gabi felt her stress levels drop as she stroked the warmblood's dark-brown neck. She had been feeling an unease since arriving on this guest farm deep in the forests near Plettenberg Bay. But her sister had thought it best to get away from home to get to reconnect with their estranged father.
Exploring the woods with Brigadier was all she wanted to do . . . but should she have paid closer attention to the locals' talk about nightwalkers? And could a week really be long enough to get to know someone?
You can watch the trailer video here.
A Book Review was screened on Morning LIve on January 28, 2017.
More detail on the website of NB Publishers.
City girl and the Black Colt
Unwillingly attending a holiday with her mother on the West Coast was not her idea of fun.  Much rather she would have wanted to attend a horse jumping course in Pretoria.
And how badly would her West Coast holiday pictures compare with her friends' pictures who are attending a wedding in Mauritius.
What on earth would she do among a bunch of marine biologogists who can only talk about their boring research!
But the West Coast has its moments…..